Key Features:
Cost-effective tailgating detection
Detects crawlers but ignores carts and luggage
Integrates with any current access control systems
Easily mounts to standard door frame or wall
Pre-programmed propped door and loiter alarm
Card-stacking capability allows high throughput
Blends in with architectural styling
Operation & Application
Entry Vision easily adapts to most doors or passageways and is uncomplicated to install and commission; no qualified technician is required and no training is required. The system is configurable with a user interface via a USB port in the base of the Detector module.
Entry Vision accepts data from virtually any badge or access system, including biometric and smart I.D. systems. The system is able to provide access control in both directions (entry and exit), detecting the direction of travel of each person. An access reader on both sides of the door may be used for bi-directional control.
In addition to tailgating detection, the technology of Entry Vision Model EV100 may be easily adapted into these traditional entry control products:
Elevator Control
Escalator Control
Person Counting
Asset Tracking and Verification
Directional Control
Optical Turnstiles
Barrier Arm Turnstiles
Barrier Gates (Wing Style)
Automated Immigration Gates
Like more information?
Please contact us at:
sales@newtonsecurity.com
or call 425-251-9494


T-DAR Entry Vision Model EV100 - Door Frame Tailgating Detection
Superior detection at its core, simplicity in its design.
The T-DAR Entry Vision Model EV100 is a door frame-mounted anti-tailgating and direction control system that adds an additional layer of security to any existing access-controlled single door, passage way or corridor. The sophisticated detection system uses machine vision and proprietary Newton software to admit only one person into a restricted area for each valid authorization, while allowing carts or luggage to accompany them without an alarm. The anti-tailgating technology enables the system to perform in full ambient light or in total darkness.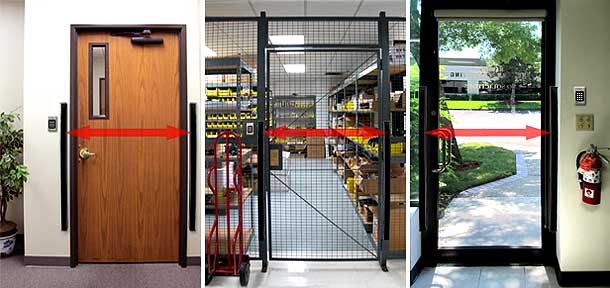 System Description
The Entry Vision Model EV100 system is composed of two modules: the Detector module housing three tracking cameras and an Emitter module with a strip of infrared (IR) illuminators. In addition to integrating seamlessly with access control systems, the Model EV100 enables owners and integrators to exercise choice in connecting the type of output response devices that would be most appropriate: a flashing light, an audible alarm, initiating video recording, or sending a silent signal to security control.
T-DAR Entry Vision Model EV100 Technical Information

Specifications

Dimensions (each unit)
2.63 in. X 2.25 in. X 46 in. (67 mm X 57 mm X 1,17 m)
Weight (each unit)
7 lbs. (3 kg)
Construction
Extruded aluminum and extruded plastic filter
Mounting attachments
Mounting via four holes on the back panel
(Optional mounting spacers available)
Operating temperature
40° to 110° F (4° to 43° C (optional high and low temperature systems available)
Storage temperature
0° to 125° F (- 18° to 52 ° C)
Power input voltage*
12 - 24 VDC @ 2A
Inputs
4 Opto-isolated digital
Outputs
4 Relays 2A each
USB connection
Micro USB
*Power Supply NOT Included
Output Connections
The Entry Vision Model EV100 terminal board is equipped with four opto-isolated outputs. These outputs are used to signal alarm conditions, provide simple diagnostics, or control external devices such as door locks. Each dry contact, single pole/single throw relay may be set normally open or normally closed.